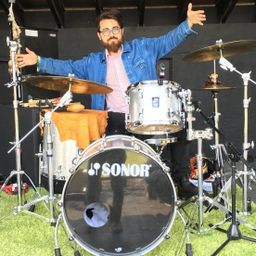 Daniel Akira Stadnicki
Music Instructor
University of Alberta
Daniel Akira Stadnicki is an award-winning drummer, music instructor, and former Vanier Canada Graduate Scholar based at the University of Alberta, where he recently defended his PhD in Ethnomusicology. His dissertation examined the legacies of Persian aesthetics and culture in the Baha'i Faith, focusing particularly on musical representations of Baha'i religious persecution in Iran. Daniel has presented internationally on a broad range of topics and has published in Intersections, the Journal for Popular Music Education, the Journal for Interdisciplinary Voice Studies, and is currently co-editing a book on drum kit research with Joseph Michael Pignato (CUNY-Oneonta) and Matthew Brennan (University of Glasgow) (under contract with Cambridge University Press). In addition to his scholarly work, Daniel continues to record and perform internationally with several Canadian folk/world music artists. He is currently endorsed by Murat Diril Cymbals (Canada). For more information, please visit: www.danielstadnicki.com.
Sessions in which Daniel Akira Stadnicki participates
Université du Québec à Montréal (UQAM) - DS-1540
Daniel Akira Stadnicki, University of Alberta (Moderator)
Daniel Akira Stadnicki, University of Alberta (Participant)
This paper will explore how Baha'i musicians—or, "Baha'i-engendered" artists (Tuman 1993)—sonically-represent Iranian religious persecution, ...