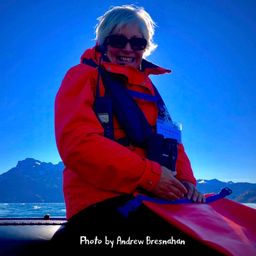 Dawn Bazely
Professor
York University
Dawn Bazely is Professor of Biology in York University's Faculty of Science. She was Director of York University's Institute for Research and Innovation in Sustainability (IRIS) from 2006-11 and 2012-14.
Before completing her D.Phil. in Zoology (1988) at Oxford University, UK, Dawn spent five summers on the shores of Hudson Bay east of Churchill, Manitoba, in what is now, Wapusk National Park, studying the impact of grazing Lesser Snow Geese on sub-arctic salt-marshes. Dawn's many publications include Environmental Change and Human Security in the Arctic, co-edited with Gunhild Hoogensen and Andrew Tanentzap (Earthscan Press, 2014).
In 2003, Dawn received the Faculty of Science and Engineering Excellence in Teaching Award, and in 2013, the York University President's University-Wide Teaching Award (UWTA) in the full-time faculty category. Dawn was singled out by the Globe and Mail as York University's "Hotshot Professor" in their 2014 Universities Report. She received York University's Sustainability Leadership Award in 2017, the same year that she received the title of University Professor.
From 2006-11, Dawn led the Canadian section of the International Polar Year project, GAPS: Gas, Arctic Peoples and Security. She spent 2011-12 on sabbatical as a Bullard Fellow at Harvard Forest, Harvard University, and as Visiting Researcher in the Biodiversity Institute, Oxford University.
Dawn advocates for excellence in Science Communication and Equity, Diversity and Inclusivity in STEM (Science, Technology, Engineering and Mathematics). She frequently guest lectures in courses across York University, and at other universities, and gives public talks on her research, and general science.
From 2016-19, Dawn has been the resident botanist aboard 11 Adventure Canada Ecotourism Expedition Cruises in the High and Low Arctic, the North Atlantic, the St. Lawrence, the Faroes and Scotland. As onboard botanist, she actively promotes Citizen Science and Public Science. In 2018, Dawn was a visiting professor in Environmental Studies, Visva Bharati University in West Bengal, India, where she began Ecotourism research comparing the charismatic megafauna of the Arctic (polar bears) with the Sundarbans (tigers).
Sessions in which Dawn Bazely participates