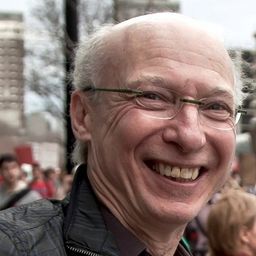 Composer, teacher and researcher, Yves Daoust has worked in Quebec and international music circles since 1976. He has greatly contributed to the development of electroacoustic music in all its forms in Quebec, through his works, but also through his activities as a communicator and producer.

Co-founder in 1978 of ACREQ (now known as ELEKTRA), he directed this concert and experimental event production organization for seven years.

From 1976 to 1979, he worked as a sound designer at the National Film Board.

In 1980, he began a teaching career in the Conservatory network, developing the teaching of electroacoustic composition at the Montreal and Quebec Conservatories. He retired from this Institution in 2011.

In addition to his abundant concert production, Yves Daoust has collaborated in the design and production of several shows for young audiences, particularly with the company Arsenal à Musique, including Planète Baobab (1999) Prix Opus de la meilleure création jeune public.

In addition to composition and teaching, he has worked since 2002, in collaboration with Alexandre Burton, on the creation and development of pedagogical sound creation tools for schools and their implementation in schools. In 2013, he founded the non-profit organization COSIMU, which develops fonofone, an educational music creation application for the iPad. In addition to giving a large number of workshops to young people himself, Yves Daoust has formed a cohort of facilitators qualified to give "fonofone" workshops. For the past 4 years, he has also given training workshops on fonofone pedagogy for music teachers throughout Quebec.

In 2009, Yves Daoust received the Serge Garant Prize (Fondation Émile-Nelligan) for his body of work.
Sessions in which Yves Daoust participates