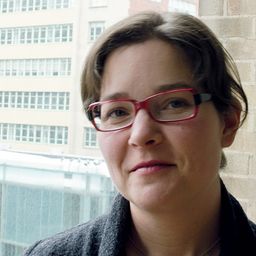 Marie-Dina Salvione
PhD Architecture et sciences de la ville, École Polytechnique Fédérale de Lausanne (EPFL)
École de design, UQAM
Docteure diplômée de l'École Polytechnique Fédérale de Lausanne (EPFL), Marie-Dina Salvione possède un cursus académique caractérisé par des études supérieures en patrimoine moderne tant à l'UQAM qu'en Suisse. Pendant cette période, elle s'est intéressée à la sauvegarde de l'architecture religieuse occidentale et de manière spécifique à la valorisation de leur éclairage naturel. Depuis 2008, elle est chargée de cours au DESS en architecture moderne et patrimoine, à l'École de design de l'UQAM où elle dirige le cours Actualité du patrimoine moderne : théorie et pratique. Dans ce contexte, elle amène les participants à répondre à des enjeux actuels de sauvegarde en élaborant un projet de conservation ou de mise en valeur sur une oeuvre bâtie menacée (2015 : le Square Viger). Membre de Docomomo Québec et de l'Institut du patrimoine de l'UQAM, Marie-Dina est activement impliquée dans ce domaine et s'intéresse aux questions de sensibilisation envers l'architecture moderne. De concert avec ces organismes et le Centre de Recherche en Tourisme et Patrimoine (CRTP), elle a organisé et coordonné la journée d'étude «Citoyens et experts pour la sauvegarde de l'architecture moderne» (UQAM, novembre 2014). Ses plus récentes publications démontrent son regard critique et son intérêt pour les problématiques de conservation, de connaissance et de sensibilisation appliquées à l'architecture moderne. « Conversion of the church of Sainte-Germaine-Cousin. Reaching out to the community ». In Docomomo Journal, no. 52 : Reuse, Renovation and Restoration, janvier 2015, p. 34-39. « Récit critique d'une sauvegarde réussie. L'église Christ Memorial Lutheran (Roger D'Astous et Jean-Paul Pothier, 1964-1965) ». In Journal pour l'étude de l'architecture au Canada, numéro dédié à l'architecture sacrée (à paraître en 2015). « En guise d'introduction, quelques initiatives locales ». In La sauvegarde de l'architecture moderne, France Vanlaethem et Marie-Josée Therrien (dir.) Québec, Presses de l'Université du Québec, 2014.
Sessions in which Marie-Dina Salvione participates
Paper
Marie-Dina Salvione, École de design, UQAM (Participant)
Cette communication propose de questionner l'idée de patrimonialisation comme condition sine qua non pour la sauvegarde de l'architecture modern...
Sessions in which Marie-Dina Salvione attends