9th Meeting on Language Teaching (ReEL 2020)
28 May 2020, 8:30 AM - 29 May 2020, 12:00 PM
Montréal, Québec, Canada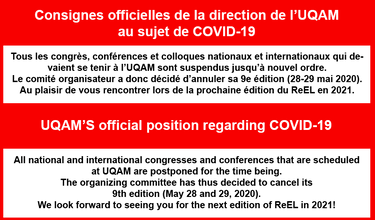 ---
Chaque année, la Rencontre sur l'enseignement des langues (ReEL) explore diverses problématiques soulevées par l'enseignement-apprentissage en langues secondes et étrangères auprès de publics adultes dans la configuration didactique contemporaine. L'École de langues, en collaboration avec le Département de didactique des langues de l'Université du Québec à Montréal (visitez notre site WEB), invite les chercheurs, les enseignants, et les futurs enseignants de toute langue seconde ou étrangère d'y participer.
ReEL est un colloque trilingue; les communications peuvent être présentées en français, en anglais ou en espagnol.
---
Every year, the Meeting on Language Teaching (ReEL) explores various themes in contemporary second language pedagogy relating to the teaching and learning of second and foreign languages among adult learners. The École de langues (visit our website), in collaboration with the Département de didactique des langues, at the Université du Québec à Montréal (UQAM) invites researchers, teachers, and pre-service teachers of all second and foreign languages to participate.
ReEL is a trilingual conference; presentations may be delivered in French, English or Spanish.
---
Todos los años el Coloquio sobre la enseñanza de lenguas extranjeras (ReEL) explora diversos temas planteados por la enseñanza-aprendizaje en lenguas segundas y extranjeras para un público adulto desde una configuración didáctica contemporánea. La Escuela de idiomas, en colaboración con el Departamento de Didáctica de Idiomas (Visite nuestro sitio WEB), de la Universidad de Quebec en Montreal (UQAM) invita a investigadores, profesores y futuros profesores de segundos idiomas o idiomas extranjeros que estén interesados en los temas de la presente edición a presentar una propuesta de comunicación.
ReEL es una conferencia trilingüe; los trabajos pueden presentarse en francés, inglés o español.
About
9th Meeting on Language Teaching (ReEL 2020)
Event Starts:
28 May 2020, 8:30 AM
Event Ends:
29 May 2020, 12:00 PM