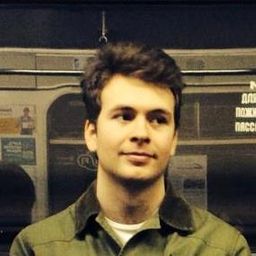 Steven Hyland
Programme Producer and Researcher
Tate Liverpool
Steven Hyland works with the aim of opening up art practices and institutions to allow for greater meaningful collaboration, so that a broader section of society can shape their culture. He is currently studying for an MA in Art Gallery and Museum Studies at the University of Manchester. Since 2013 he has been a member of Tate Collective Liverpool where he has taken on various roles within projects, from project managing an exhibition for the Blueprint Festival to evaluating outreach workshops as well as planning and delivering workshops for a variety of different young people.
Steven collaborated with other Tate Collective Liverpool members to write a paper entitled 'The Value of the Blueprint Festival', which was presented at an iJade (International Journal of Art and Design Education) conference in 2014 and will be published in an issue of iJade. In it he discussed different aspects of the festival and how both young people and the wider audience experienced it.
Steven wrote a paper called 'The Trouble with Youth Voice' and presented it at a BERA (British Education Research Association) youth arts conference at Nottingham University in April 2015. In it he analysed the issues that arise when trying to utilise youth voice within art galleries.
In addition to the above he was part of a panel discussion about the interaction of art galleries and subcultures at Tate Modern in June 2015.
Sessions in which Steven Hyland participates
Sessions in which Steven Hyland attends
Signup required
UQAM, pavillon Hubert-Aquin (A) - A-1875
12:30 - 15:30 | 3 hours

The Research Development Seminars gathers young scholars who will informally present and discuss their research with one of the conference's keynot...

Workshop
Signup required
Concordia, Grey Nuns Motherhouse (GN) - Former Chapel
17:00 - 19:30 | 2 hours 30 minutes

Welcome addresses and cocktail, followed by the Concordia Signature Event "The Garden of the Grey Nuns". As the opening ceremony and cocktail...

Cocktail
Signup required
UQAM, pavillon Judith-Jasmin (J) - Salle Alfred-Laliberté
9:00 - 10:00 | 1 hour

What if we changed our views on heritage? And if heritage has already changed? While, on the global scene, s...

Keynote with simultaneous translation / Conférence avec traduction simultanée