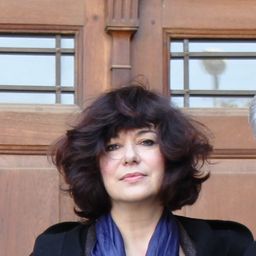 Dr Caecilia Pieri
Chercheure
Institut français du Proche-Orient
Caecilia Pieri  holds  is  Associate Researcher at the French Institute of the Near-East (IFPO), Beirut, where she was formerly Head of the Urban Observatory (2011-2015).   She works on a comparative approach to the field of modern urban history and urban anthropology in Mediterranean and Middle Eastern areas.  She received her PhD at the Ecole des Hautes Etudes en Sciences Sociales, Paris, on the subject of the modernization of Baghdad, where she has been conducting fieldwork since 2003. She is particularly concerned with cities in conflict, and the use of heritage as a social marker and tool for politics, and is the leading coordinator of a new research program  within Ifpo/AUF ( 2015-2017) about "Heritage at war in the Mediterranean region", with partnerships in Lebanon, Algeria, Egypt, Turkey, Bosnia and Italy. Member of ICOMOS- International and of DOCOMOMO-Lebanon, s he is also an  expert within the UNESCO (World Heritage) steering committee for the safeguard of modern heritage in the Arab World. Among her publications as an author or scientific editor: Baghdad Arts Deco, 1920-1950 (American University of Cairo Press, 2011), The Le Corbusier Gymnasium in Baghdad (co-authored with Mina Marefat and Gilles Ragot), and  the recent  book based on her PhD: Bagdad. La construction d'une capitale moderne, 1914-1960 ( november 2015,  Presses de l'Ifpo).
Sessions in which Dr Caecilia Pieri participates
Concordia, John Molson School of Business Building (MB) - MB 3.265
Regular session
Dr Caecilia Pieri, Institut français du Proche-Orient (Moderator)
Dr Vanessa Guéno, Institut Français du Proche Orient, Jordanie (Moderator)
Dans le cadre d'une réflexion pluridisciplinaire croisant anthropologie, archéologie, architecture, géographie, histoire, politologie, cette séa...
Paper
Dr Caecilia Pieri, Institut français du Proche-Orient (Participant)
During the Balkans conflict of 1992–1995, the Bosnian town of Srebrenica was declared a UN Safe Area in 1993, under the watch of the United Nati...