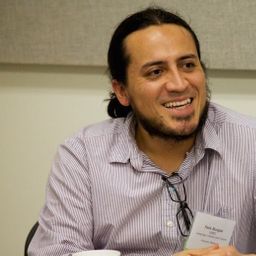 Felix Burgos
Doctoral Candidate Language, Literacy, and Culture Program
University of Maryland, Baltimore County
Felix is a doctoral candidate in the Language, Literacy and Cultural program at the University of Maryland, Baltimore County. His current research focuses on the processes of memory and memorialization in the midst of Colombia's armed conflict (his country of origin). Other interests are: multimodality, mapping, rhetorics, digital humanities, and educational technologies. 

Felix is also co-editor of the E-Journal Textshop Experiments, which fosters experimental works within the framework of Electracy (or the new apparatus after literacy).

 
Sessions in which Felix Burgos participates
Sessions in which Felix Burgos attends
Signup required
UQAM, pavillon Judith-Jasmin (J) - Salle Alfred-Laliberté
18:30 - 20:00 | 1 hour 30 minutes

Most of what we experience as heritage emerges into conscious recognition through a complex mixture of political and ideological filters, including...

Keynote with simultaneous translation / Conférence avec traduction simultanée

UQAM, pavillon J.-A. De Sève (DS) - DS-2518
9:00 - 12:30 | 3 hours 30 minutes

We would like to propose a session, building on the one we ran at the 2014 CHS conference in Canberra, on how emotion and affect feature in the fie...

Regular session

Signup required
Concordia, LB Building - LB 125
19:00 - 21:00 | 2 hours

Directed by Tom Fassaert and presented by Marc Jacobs. ___ Doel, a Belgian village near the Dutch border, is disappearing quickly and d...
Concordia, LB Building - LB 671 CaPSL/CEREV
13:30 - 15:00 | 1 hour 30 minutes

Around the globe the planning of large-scale memorial-museum projects concerned with violent histories are frequently marred by conflict, omissi...

Research-Creation
Signup required
Concordia, LB Building - LB 125
19:00 - 19:35 | 35 minutes

Directed by William Shewbridge and Michelle Stefano USA; 35 mins Presented by Michelle Stefano ___ After 125 years o...