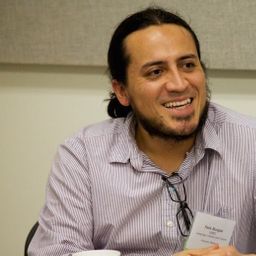 Felix Burgos
Doctoral Candidate Language, Literacy, and Culture Program
University of Maryland, Baltimore County
Felix is a doctoral candidate in the Language, Literacy and Cultural program at the University of Maryland, Baltimore County. His current research focuses on the processes of memory and memorialization in the midst of Colombia's armed conflict (his country of origin). Other interests are: multimodality, mapping, rhetorics, digital humanities, and educational technologies. 

Felix is also co-editor of the E-Journal Textshop Experiments, which fosters experimental works within the framework of Electracy (or the new apparatus after literacy).

 
Sessions in which Felix Burgos participates
Concordia, John Molson School of Business Building (MB) - MB 3.285
Regular session
Prof. Michelle L. Stefano, University of Maryland, American Studies, United States (Moderator)
Felix Burgos, University of Maryland, Baltimore County (Moderator)
Among other aims, the Critical Heritage Studies (CHS) Movement, most exemplified by the promotional efforts of the Association of Critical Heritage...
Felix Burgos, University of Maryland, Baltimore County (Participant)
Colombians have suffered for more than sixty years under the on-going armed conflict, which is the confrontation between guerrilla organizations...
Sessions in which Felix Burgos attends