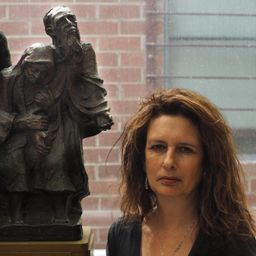 Dr Donna-Lee Frieze
Research Fellow
Deakin University
Dr Frieze is a Genocide studies scholar, specializing in memory and aftermath studies. Donna is a Research Fellow and teaches the Holocaust at Deakin University, a Visiting Scholar at the 
Centre for Genocide and Human Rights 
at Rutgers University and a genocide scholar in residence at the 
Jewish Holocaust Centre
 in Melbourne. She taught a graduate unit, Genocide, for over 10 years and has published widely on the Armenian genocide, the Holocaust and the Bosnian genocides in relation to testimony, film and philosophy. She has been invited to speak at Columbia University and to guest lecture at New York University. 
She was the 2013-2014 Prins Senior Scholar at the Centre for Jewish History in NYC.
Donna is the editor and transcriber of Raphael Lemkin's autobiography, Totally Unofficial(Yale University Press, 2013) and co-author with Steven Cooke of The Interior of Our Memories': A History of Melbourne's Jewish Holocaust Centre, (Hybrid, 2015). Donna is the past First Vice-President of the International Association of Genocide Scholars and a current member of the Advisory Board.
Sessions in which Dr Donna-Lee Frieze participates
Paper
Dr Adam Muller, University of Manitoba (Participant)
Dr Donna-Lee Frieze, Deakin University (Participant)
Steven Cooke, Deakin University (Participant)
The curation of genocidal memory within museums and related heritage sites has a number of different rationales: it preserves memory and facilit...
Sessions in which Dr Donna-Lee Frieze attends