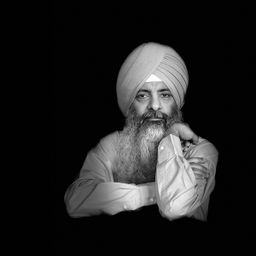 Joginder Singh
Architectural-Documentary Photographer
Light reveals shade conceals, and their interaction with surface creates an ever-changing geometry...space envelopes...creates dimension. The frame includes and isolates...sometimes analytical at other times intuitive. Of Indian origin, Joginder Singh is a Toronto-based artist who explores this ephemera through architectural-documentary photography and sound. Notions of Heritage and Architecture have always had a special place in his heart, and he tends to photograph these spaces a lot, the spatiotemporal visuals contributing towards keeping our ephemeral architectural heritage alive. Trained in architecture, he is fascinated with the intersections of architectural heritage and the urban fabric, especially ones where the original symbiotically co-exists with the altered.
Joginder has shown his work in solo and group shows. He has curated shows of student work as part of his interdisciplinary teaching practice that blurs the boundaries between photography and design.
Joginder has several publications to his credit: Glimpses of Architecture in Kerala, Forts and Palaces of India, Cosmic Dance in Stone, The Arts and Interiors of Rashtrapati Bhavan - Lutyens and Beyond, and An Adobe Revival - Didi Contractor's Architecture.
His forthcoming body of work explores the adaptive reuse of Christian religious architecture. Joginder is expected to complete his MFA in Documentary Media at Ryerson University, Toronto in June 2022.
Sessions in which Joginder Singh participates
Sessions in which Joginder Singh attends
UQAM, pavillon J.-A. De Sève (DS) - DS-R520
9:00 AM - 10:30 AM | 1 hour 30 minutes

Since the 19th century, citizens grouped within different types of associations, from t...

Regular session
UQAM, pavillon J.-A. De Sève (DS) - DS-R520
11:00 AM - 12:30 PM | 1 hour 30 minutes

While the relationship between architecture and community are intrinsically intertwined, the built...

Regular session
Signup required
UQAM, pavillon J.-A. De Sève (DS) - DS Registration table (meeting point)
1:30 PM - 6:00 PM | 4 hours 30 minutes

Bus tour of the Soulanges Canal and its facilities (1899-1959), currently undergoing a major enhancement project. The first stop will be at the ...

Repas
Available Sold out Ticket sales have finished Ticket sales haven't started yet You've purchased a ticket
La Biosphère - Belvédère et salle panoramique
6:00 PM - 11:00 PM | 5 hours

We offer a unique experience for the closing dinner of this conference in Montreal, in the former U.S. pavilion of Expo'67 - the most popular of...

Event