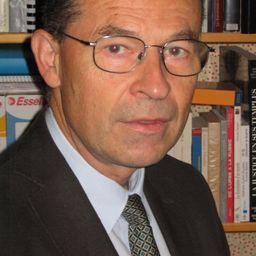 Prof. Jean-Yves Andrieux
Professeur
Université de Paris-Sorbonne
A University Professor since 1993, Jean-Yves Andrieux teaches history of contemporary art and architecture to Degree, Master and PhD students, at Paris-Sorbonne University. He is a member of the André Chastel research Centre, in Paris, and of the research Group on landscapes representation, city and urban identities (Parvi), in Montreal, Canada (Québec University in Montreal-UQÀM). As a specialist in contemporary architecture, his work focuses on the analysis of the built environment (legislation, proceedings, techniques, aesthetics and social history of monuments and buildings), in 19th and 20th centuries France and Europe. He is a collection manager at the Rennes University Press (more than 120 books edited) and a consultant to the Heritage Branch of the ministry of Culture, dealing with issues of contemporary architecture in the whole country. His last book, among around twenty, The Heritage of Monuments: sources, objects and representations, was co-written with the Art Historian Fabienne Chevallier and published in 2014.

Professeur des universités depuis 1993, Jean-Yves Andrieux enseigne l'histoire de l'art contemporain et de l'architecture, à l'université de Paris-Sorbonne, en licence, master et doctorat. Il est membre du Centre André Chastel à Paris et du Groupe de recherche sur les paysages de la représentation, la ville et les identités urbaines à Montréal, Canada (université du Québec à Montréal-UQÀM). Ses travaux sur l'architecture et le patrimoine portent sur l'analyse du cadre bâti (histoire, législation, procédures, analyse des monuments) et sur la période contemporaine, en France et en Europe. Il est directeur de collection aux Presses universitaires de Rennes (plus de 120 volumes publiés) et expert auprès de la direction générale des Patrimoines, au ministère de la Culture, pour l'enseignement et la recherche dans les écoles d'architecture françaises. Auteur d'une vingtaine d'ouvrages, il a publié en 2014 : Le patrimoine monumental : sources, objets et représentations (co-écrit avec Fabienne Chevallier, historienne de l'art).
Sessions in which Prof. Jean-Yves Andrieux participates
Concordia, John Molson School of Business Building (MB) - MB 3.270
Regular session
Prof. Jean-Yves Andrieux, Université de Paris-Sorbonne (Moderator)
Since 1914-1918, the dominant image of heritage destruction by acts of war is associated with the exponential expansion of mass violence, most ofte...
Sessions in which Prof. Jean-Yves Andrieux attends