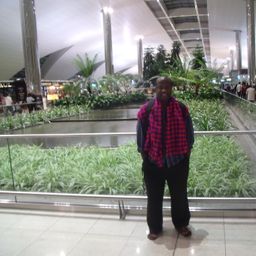 Dr. Elgidius Ichumbaki
Lecturer
University of Dar es Salaam, Tanzania
Biography: Elgidius B. Ichumbaki is a lecturer in Heritage Studies at the University of Dar es Salaam in Tanzania where he has been working since 2009. Since 2005, Dr. Ichumbaki has been actively engaged in teaching, research and knowledge dissemination. His publications include one co-edited book as well as several peer reviewed journal articles and book chapters in cultural heritage studies, cultural tourism, maritime archaeology and east African coastal archaeology.  
 
Research Interests: I am interested in how monumental ruins and historic buildings can help in understanding the transformations that have taken place over the past one millennium. I also have interests in understanding how cultural heritage sites and material cultures can be used to bring peace and harmony among the heritage stakeholders together with improving the local livelihoods through, for example, cultural tourism and place branding.
 
Current Project(s): My current work which is at the embryonic stage, seeks to investigate the advantages of traditional management systems as alternative ways to manage cultural heritage and produce outputs to improve local people's livelihoods. The study is in line with the 2030 United Nations Sustainable Development Goals Agenda and the 2063 Africa Agenda 'The Africa We Want' both recognizing heritage sites and other heritage elements like oral traditions and sacred places as important to a broader economic, social, cultural and environmental contexts including the identity and well-being of societies. My aim here is to establish the means in which cultural heritage values may be well-managed at the local level and, be used to bring grassroots developments in Africa. I am specifically concerned with the concrete actions that need to be taken to efficiently and cheaply safeguard cultural heritage and, integrate heritage in all its guises to bring inclusive socio-economic development at the local level in NE Tanzania.
 
Sessions in which Dr. Elgidius Ichumbaki participates
Sessions in which Dr. Elgidius Ichumbaki attends
Signup required
UQAM, pavillon Athanase-David (D) - DR-200
11:30 - 13:00 | 1 hour 30 minutes

What does heritage change for tourism? | Le patrimoine, ça change quoi au tourisme? Ce débat veut interroger les r...

Roundtable with simultaneous translation / Table ronde avec traduction simultanée

Signup required
UQAM, pavillon J.-A. De Sève (DS) - DS-R520
13:00 - 15:00 | 2 hours

This forum will explore the current directions of critical heritage studies and what makes ACHS distinctive. Panel members will discuss what the...

Workshop
Signup required
Concordia, Grey Nuns Motherhouse (GN) - Former Chapel
17:00 - 19:30 | 2 hours 30 minutes

Welcome addresses and cocktail, followed by the Concordia Signature Event "The Garden of the Grey Nuns". As the opening ceremony and cocktail...

Cocktail
Signup required
UQAM, pavillon Judith-Jasmin (J) - Salle Alfred-Laliberté
9:00 - 10:00 | 1 hour

What if we changed our views on heritage? And if heritage has already changed? While, on the global scene, s...

Keynote with simultaneous translation / Conférence avec traduction simultanée

Signup required
UQAM, pavillon Judith-Jasmin (J) - Salle Alfred-Laliberté
18:30 - 20:00 | 1 hour 30 minutes

Most of what we experience as heritage emerges into conscious recognition through a complex mixture of political and ideological filters, including...

Keynote with simultaneous translation / Conférence avec traduction simultanée