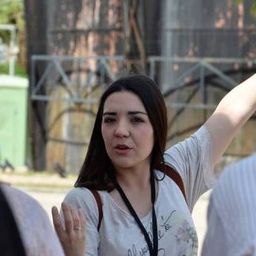 Despina Andriopoulou
Cultural Project Manager- Museum Educator
Industrial Gas Museum of Technopolis City of Athens
Despina Andriopoulou is the CEO of the cultural organization "Artfygio—Shelter of Arts" (www.artfygio.gr), which researches, designs, and implements cultural events and educational programs in performing arts. She has been a cultural heritage project manager for the Greek Ministry of Culture and the Museum of the Bank of Greece. The last nine years she collaborates with the Industrial Gas Museum of Athens and supervises cultural projects concerning the industrial heritage. She is a postdoctoral researcher at the Department of Cultural Technology and Communication, University of the Aegean. She completed her PhD at the same department with financial support from the State's Scholarship Foundation (IKY). She holds an MS in Cultural Informatics and Communication (University of the Aegean), a BS in Management Science and Technology (Athens University of Economics and Business) and a BA in Theater Studies (University of Patras).
Sessions in which Despina Andriopoulou participates
UQAM, pavillon J.-A. De Sève (DS) - DS-1520
Paper
Maria Florou, Technopolis City of Athens (Speaker)
Konstantinos Bitzanis, Technopolis City of Athens (Presenter)
Despina Andriopoulou, Industrial Gas Museum of Technopolis City of Athens (Speaker)
The old Gasworks of Athens was established in 1857 and provided energy for public lighting, industries and households in Athens. It was in full fun...