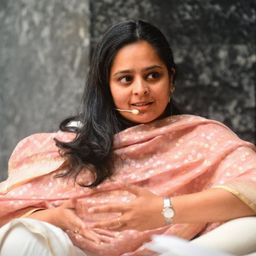 Aishwarya Tipnis
Her
Architect & Conservation Planner
Aishwarya Tipnis Architects
Aishwarya Tipnis is an architect, educator and heritage conservation based in New Delhi India. She set up her eponymous practice Aishwarya Tipnis Architects (ATA) in New Delhi, India in 2007.An alumna of the School of Planning & Architecture New Delhi, she has Master's Degree in European Urban Conservation with distinction from the University of Dundee, Scotland in 2007. She is currently pursuing her PhD in Urban Design on " Exploring the role of adaptive reuse in regeneration of derelict industrial sites in India" She is the recipient of the highest civilian honor in the culture sector, the insignia of Chevalier Des Arts et Des Lettre (Knight of the Arts and Letters), by the Government of France in 2018 for her outstanding commitment to preservation of French Heritage in India. She is also the recipient of the UNESCO Award for Heritage Conservation in the Asia-Pacific Region (Award of Merit: Mahidpur
Fort & Honorable Mention for Doon School, Dehradun) in 2016. A participant of the first edition of the Global Cultural Leadership Programme, she is also the recipient of Commonwealth Professional Fellowship 2011 as well as Scottish International Scholarship 2006. She has served as a consultant to UNESCO, Asian Development Bank, World Monuments Fund New York as well as Vielles Maison Francaise, Paris,Embassy of France in India, Embassy of Kingdom of Netherlands in India. She is also a visiting faculty to Department of Urban Design at the School of Planning & Architecture New Delhi and the author of "Vernacular Traditions: Contemporary Architecture" published 2012 and Engagements in the Courtyard Restoring a Haveli in Old Delhi 2020. In 2019, she co-founded Jugaadopolis a social innovation enterprise to work with youth in making the rich tangible and intangible heritage of India relevant in the contemporary context.
Sessions in which Aishwarya Tipnis participates
UQAM, pavillon J.-A. De Sève (DS) - DS-R525
Paper
Aishwarya Tipnis, Aishwarya Tipnis Architects (Speaker)
Industrialisation is commonly perceived to be a phenomenon produced by the industrial revolution between the 18th and 19th centuries in Europe, whi...