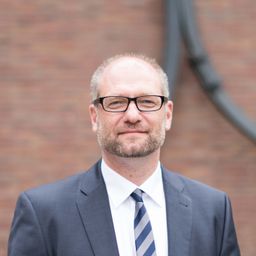 Michael Farrenkopf
Dr.
Deutsches Bergbau-Museum Bochum (DBM)
Dr. Michael Farrenkopf, M.A. (born 1966), studied history, journalism and art history at the Universities of Mainz and Berlin between 1987 and 1994, for which he was awarded a Master of Arts. Between 1995 and 1998 he was a research fellow at the Deutsches Bergbau-Museum Bochum (i.e. German Mining Museum) in Bochum (DBM), working on a comprehensive history of the cokemaking industry (published in two volumes in 2003). 1999/2000 he wrote his PhD thesis at the Technical University of Berlin on the topic "Fire Damp and Coal Dust. The explosion risk in the industrial Ruhr mining (1850-1914)", published 2003 in German language, for which he received the Young Investigator Award of the Georg-Agricola-Gesellschaft zur Förderung der Geschichte der Naturwissenschaften und der Technik e.V. (i.e. Georg-Agricola-Society for the promotion of history of natural science and technology). Since 2001 he has worked as head of the mining history document center as well as head of the research division of mining history since industrialization at DBM. Between 2001 and 2010 he was also editor in chief of the mining history magazine DER ANSCHNITT. Since 2003 he is lecturer at the history faculty of the Ruhr-University Bochum, since 2014 also lecturer at the Institute for industrial archaeology, science and technical history at the Technical University Bergakademie Freiberg in Saxony. Since 2004 he is head of the historian commission of the Association of German coke plant specialists; from 2005 to 2009 he was speaker of the working group of archives of the Gottfried Wilhelm Leibniz Association (Leibniz-Gemeinschaft). Since 2014 he is head of the department "collections and documentation" at DBM as well as member of the steering committee of DBM.
His publications have included contributions on the subjects of economic and company history, historical accident research in mining, the cokemaking industry, and diverse archival and documentary topics.
translation_fallback: Sessions in which Michael Farrenkopf translation_fallback: participates
translation_fallback: 11:00 AM
translation_fallback: 11:00 AM
UQAM, pavillon J.-A. De Sève (DS) - DS-1420
translation_fallback: 11:00 AM - translation_fallback: 12:30 PM | 1 translation_fallback: hour 30 minutos

During the Industrial Revolution coal was the most important energy source for both homes and industries. At the time, coal mining created stron...

Regular session
translation_fallback: 1:30 PM
translation_fallback: 1:30 PM
UQAM, pavillon J.-A. De Sève (DS) - DS-1420
translation_fallback: 1:30 PM - translation_fallback: 3:00 PM | 1 translation_fallback: hour 30 minutos

During the Industrial Revolution coal was the most important energy source for both homes and industries. At the time, coal mining created stron...

Regular session
translation_fallback: 3:30 PM
translation_fallback: 3:30 PM
UQAM, pavillon J.-A. De Sève (DS) - DS-1420
translation_fallback: 3:30 PM - translation_fallback: 5:00 PM | 1 translation_fallback: hour 30 minutos

During the Industrial Revolution coal was the most important energy source for both homes and industries. At the time, coal mining created stron...

Regular session
translation_fallback: 9:00 AM
translation_fallback: 9:00 AM
UQAM, pavillon J.-A. De Sève (DS) - DS-1420
translation_fallback: 9:00 AM - translation_fallback: 10:30 AM | 1 translation_fallback: hour 30 minutos

During the Industrial Revolution coal was the most important energy source for both homes and industries. At the time, ...

Regular session
translation_fallback: 11:00 AM
translation_fallback: 11:00 AM
UQAM, pavillon J.-A. De Sève (DS) - DS-1420
translation_fallback: 11:00 AM - translation_fallback: 12:30 PM | 1 translation_fallback: hour 30 minutos

During the Industrial Revolution coal was the most important energy source for both homes and industries. At the time, ...

Regular session
translation_fallback: Sessions in which Michael Farrenkopf translation_fallback: attends
translation_fallback: 5:00 PM
translation_fallback: 5:00 PM
translation_fallback: Signup required
UQAM, Cœur des sciences - Agora Hydro-Québec
translation_fallback: 5:00 PM - translation_fallback: 7:00 PM | 2 translation_fallback: hours

Join the conference organisers and TICCIH board members for a welcome cocktail and some festive words of introduction, in the former forge of th...

Cocktail
translation_fallback: 5:30 PM
translation_fallback: 5:30 PM
translation_fallback: Available translation_fallback: Sold out translation_fallback: Ticket sales have finished translation_fallback: Ticket sales haven't started yet translation_fallback: You've purchased a ticket
UQAM, pavillon J.-A. De Sève (DS) - DS-R510
translation_fallback: 5:30 PM - translation_fallback: 7:00 PM | 1 translation_fallback: hour 30 minutos

Efforts to preserve industrial heritage occurs in a socio-economic and political context. But what is being pres...

Keynote with simultaneous translation / Conférence avec traduction simultanée
Translation_fallback: miércoles 31 agosto, 2022
Zona horaria: (GMT-05:00) Eastern Time (US & Canada)
translation_fallback: 5:30 PM
translation_fallback: 5:30 PM
Translation_fallback: jueves 1 septiembre, 2022
Zona horaria: (GMT-05:00) Eastern Time (US & Canada)
translation_fallback: 1:30 PM
translation_fallback: 1:30 PM
Translation_fallback: viernes 2 septiembre, 2022
Zona horaria: (GMT-05:00) Eastern Time (US & Canada)
translation_fallback: 3:30 PM
translation_fallback: 3:30 PM
translation_fallback: Available translation_fallback: Sold out translation_fallback: Ticket sales have finished translation_fallback: Ticket sales haven't started yet translation_fallback: You've purchased a ticket
UQAM, pavillon J.-A. De Sève (DS) - DS-R510
translation_fallback: 3:30 PM - translation_fallback: 5:00 PM | 1 translation_fallback: hour 30 minutos

In the refusal of people in communities abandoned by industrial capital to abandon their own places, we can read an implicit critique of the mob...

Keynote with simultaneous translation / Conférence avec traduction simultanée
translation_fallback: 6:30 PM
translation_fallback: 6:30 PM
translation_fallback: Available translation_fallback: Sold out translation_fallback: Ticket sales have finished translation_fallback: Ticket sales haven't started yet translation_fallback: You've purchased a ticket
Usine C - Hall
translation_fallback: 6:30 PM - translation_fallback: 9:30 PM | 3 translation_fallback: hours

Come and share the good times of the congress and celebrate your scientific and professional discoveries in a former fruit jam factory, Usine C,...

Repas