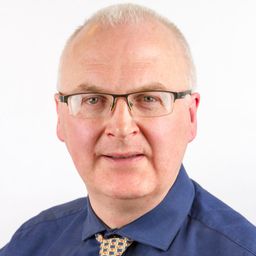 James Gunn
Information & Knowledge Manager
Dounreay Site Restoration Ltd
James started working at Scotland's Dounreay nuclear site as a Scientific Trainee in 1978. He graduated with an honours degree in Chemistry from Edinburgh University and worked in the laboratories of both Dounreay and the neighbouring Vulcan Naval Reactor Test Establishment. Following various roles in project management and decommissioning strategy at Dounreay, James is currently the site's Information and Knowledge Manager, which includes records management and heritage. The Dounreay heritage strategy was published in 2010 and he has managed the strategy's implementation plan from this time. He has published conference papers about Dounreay's heritage project and given presentations throughout the UK and Europe, including the TICCIH 2015 conference in Lille. Due to his industrial heritage experience he has recently been seconded to the Nuclear Decommissioning Authority to act as its Heritage Officer in a part-time role alongside his work at Dounreay.
translation_fallback: Sessions in which James Gunn translation_fallback: participates
Translation_fallback: jueves 1 septiembre, 2022
Zona horaria: (GMT-05:00) Eastern Time (US & Canada)
translation_fallback: 9:00 AM
translation_fallback: 9:00 AM
UQAM, pavillon J.-A. De Sève (DS) - DS-R515
Paper
James Gunn, Dounreay Site Restoration Ltd (Speaker)
The civil nuclear industry has evolved since its inception in the 1940s and has encountered issues with "belonging and social acceptability" (one o...
UQAM, pavillon J.-A. De Sève (DS) - DS-R515
Roundtable
James Douet, patrimoni-industrial.com (Moderator)
James Gunn, Dounreay Site Restoration Ltd (Panelist)
Dr Miles Oglethorpe, TICCIH (Panelist)
Elisa Rubalcava, GoA - Historic Resources Management Branch (Panelist)
This session will bring together four specialists in the history of the production of oil and petroleum, natural gas, coal and nuclear energy, t...
translation_fallback: Sessions in which James Gunn translation_fallback: attends