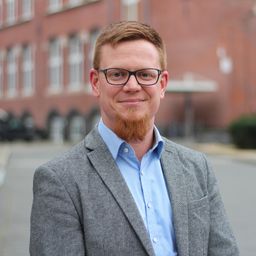 Daniel Kipp
Research Associate and PhD Candidate
THGA Bochum
Daniel Kipp is currently employed as a teaching staff member and research associate at the THGA university and is mainly responsible for modules such as "special steels and their applications", "fatique and lifetime of machine elements" and "Practice Course: The Example Zollverein". As a PhD student at the TU Dortmund, he is working closely with the hcc.ruhr on research questions regarding non-destructive testing methods for time-efficient and data-based evaluation of transparent coating systems.
Before joining TH Georg Agricola university, Daniel Kipp had several positions in the industry such as technical marketing specialist at Deutsche Edelstahlwerke and Swiss Steel International in USA and in the quality assurance department at VDM Metals. Daniel Kipp studied "Applied Materials Science" at THGA university and in his Master's degree he expanded his know-how in Metallurgy and Metal Forming at university Duisburg Essen.
translation_fallback: Sessions in which Daniel Kipp translation_fallback: participates
translation_fallback: 2:00 PM
translation_fallback: 2:00 PM
UQAM, pavillon J.-A. De Sève (DS) - DS-1545
Paper
Daniel Kipp, THGA Bochum (Speaker)
Within the scope of a research project, state of the art sensor-carrying drones using optical, thermal and multispectral imaging are used for th...
translation_fallback: Sessions in which Daniel Kipp translation_fallback: attends