The challenges of steel coatings - an alternative approach based on the inhibition of corroded surfaces
Translation_fallback: what:
Paper
Translation_fallback: part of:
Translation_fallback: when:
translation_fallback: 3:30 PM, lunes 29 ago 2022 (20 minutos)
Translation_fallback: where:
Translation_fallback: how:
Industrial heritage holds big challenges for conservators, being mostly exposed to free weathering conditions. Often industrial methods are chosen for the protection of historic industrial structures. They are carried out following modern engineer standards: the surface of steel objects is cleaned to create a homogenous substrate which is then coated in several layers.
However, overcoating is a delicate topic. Modern engineer standards commonly refer to the treatment of modern structures. These, possessing highly advanced constructive corrosion protection, require preservation concepts which are not readily applicable to historic industrial objects. Owed to the mechanical joining techniques of riveting or bolting they possess numerous structure critical joints and connections which have high water retention. Moisture is retained inside the crevices by capillary forces continually catalysing crevice corrosion processes and pack rust formation.
Thus, corrosion protection is needed within these crevices and cracks. Coating systems following modern engineer standards are not designed for this task.
A master thesis in the field of conservation of industrial heritage focussed on this problem, examining a corrosion protection system which exhibits strong wicking powers in order to deeply penetrate into corroded joints. It comprises of an inhibitive, water displacing compound in combination with a blend of natural drying oils and alkyds.
The Hafenmuseum Hamburg kindly agreed to gain long term knowledge concerning this approach. Two 3t portal cranes from 1939 underwent extensive conservation treatments in the summer of 2021. During the planning of the conservative approach it soon became clear, that the overcoating should rather not follow the guidelines expressed by DIN standard: The cranes comprise of a riveted structure, which showed severe material loss in lap joint areas, especially in the areas of steel sheet doublings.
The objects' conditions as well as the local infrastructure did not allow for a maintenance concept. This forbid the application of transparent conservation media. Eventually it was decided to aim for a hybrid corrosion protection system following the insights from the master thesis mentioned earlier. In theory it is based on the inhibition of corrosion products still residing on the surfaces after multistage cleaning processes. The subsequent application of very elastic two-component epoxy and polyurethane coatings provide coating thickness, UV-stability, anti-graffiti protection and homogenous appearance.
Time will tell if this approach goes into the right direction. The examination of coating adhesion on site was promising. Also, test samples have been prepared which may deliver insights from artificial weathering tests.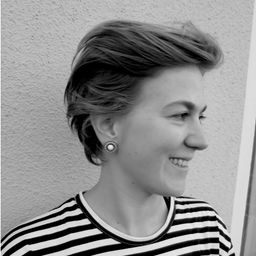 InduKon - network for the conservation of industrial heritage
Independent Conservator
translation_fallback: Session detail