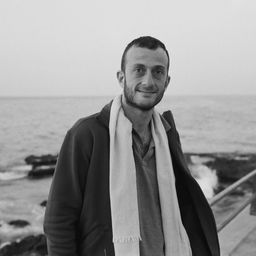 Gregory Buchakjian
Université Paris IV Sorbonne
Gregory Buchakjian (b. 1971) is a Beirut based art historian and photographer. Faculty at Académie Libanaise des Beaux-Arts (ALBA), he co-founded, with Pierre Hage-Boutros and Rana Haddad, Atelier de Recherche ALBA (1997-2004), a transdisciplinary platform that triggered public interventions in issues such as memory and space appropriation. He is currently PhD candidate at Université Paris IV Sorbonne for a dissertation dedicated to the uses and transformations of abandoned dwellings in Beirut.
 
Buchakjian's scholarly research in modern and contemporary Lebanese and Arab art generated numerous publications including War and Other (Impossible) Possibilities. Thoughts on Arab History and Contemporary Art (Alarm Editions, 2012) and talks, lately: "The Artist in the Arab World, between Political Crisis and Petrodollars" (Centre André Chastel, Paris, 2014).
 
His personal work deals with the city and its history through multiple scopes including writing (Halte, 2005), installation (Leningrad, 2013), animation film (What, shoes?, 2006) and most notably, photography. After the 2006 war in Lebanon, his camera turned towards dark colored and gloomy images of decadent parties during which young Lebanese were trying to escape from social instability and political turmoil. Entitled Nighthawks, the series was exhibited in Beirut (Comme des Garçons, 2008) and was part of the Noorderlicht Photofestival (Groningen, Netherlands, 2011). Since 2009, he is exploring derelict dwellings in Beirut. This long-term photographic project that involves mapping, architectural exploration, archive collecting and narratives generated the subject of the Phd research.
 
He is member of the advisory committee of the Saradar Collection. He took part in many academic and artistic juries including the Boghossian Prize (2012) and Beirut Art Center's Exposure (2013).
 
Sessions auxquelles Gregory Buchakjian participe
Paper
Gregory Buchakjian, Université Paris IV Sorbonne (Participant.e)
Déclenchée le 13 avril 1975, la guerre du Liban ravage, dès septembre de la même année, le cœur de la capitale. Le centre historique, qui consti...
Sessions auxquelles Gregory Buchakjian assiste
UQAM, pavillon Hubert-Aquin (A) - A-1875
Workshop
Les séminaires de développement de la recherche (Research Development Seminars) réunissent des jeunes chercheurs participants au congrès qui présen...
Concordia, Grey Nuns Motherhouse (GN) - Former Chapel
Cocktail
Prof. Tim Winter, Deakin University (Potentiel.le)
Lucie Morisset, Chaire de recherche du Canada en patrimoine urbain (Potentiel.le)
Dr Clarence Epstein, Concordia University (Modérateur.rice)
Christine Zachary-Deom (Participant.e)
Luc Noppen, Chaire de recherche du Canada en patrimoine urbain (Participant.e)
Hon. Serge Joyal c.p., o.c. (Participant.e)
Welcome addresses and cocktail, followed by the Concordia Signature Event "The Garden of the Grey Nuns". As the opening ceremony and cocktail...