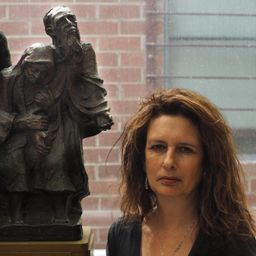 Dr Donna-Lee Frieze
Research Fellow
Deakin University
Dr Frieze is a Genocide studies scholar, specializing in memory and aftermath studies. Donna is a Research Fellow and teaches the Holocaust at Deakin University, a Visiting Scholar at the 
Centre for Genocide and Human Rights 
at Rutgers University and a genocide scholar in residence at the 
Jewish Holocaust Centre
 in Melbourne. She taught a graduate unit, Genocide, for over 10 years and has published widely on the Armenian genocide, the Holocaust and the Bosnian genocides in relation to testimony, film and philosophy. She has been invited to speak at Columbia University and to guest lecture at New York University. 
She was the 2013-2014 Prins Senior Scholar at the Centre for Jewish History in NYC.
Donna is the editor and transcriber of Raphael Lemkin's autobiography, Totally Unofficial(Yale University Press, 2013) and co-author with Steven Cooke of The Interior of Our Memories': A History of Melbourne's Jewish Holocaust Centre, (Hybrid, 2015). Donna is the past First Vice-President of the International Association of Genocide Scholars and a current member of the Advisory Board.
Sessions auxquelles Dr Donna-Lee Frieze participe
Sessions auxquelles Dr Donna-Lee Frieze assiste
Inscription req.
UQAM, pavillon Judith-Jasmin (J) - Salle Alfred-Laliberté
9:00 - 10:00 | 1 heure

What if we changed our views on heritage? And if heritage has already changed? While, on the global scene, s...

Keynote with simultaneous translation / Conférence avec traduction simultanée

Inscription req.
UQAM, pavillon Judith-Jasmin (J) - Salle Alfred-Laliberté
18:30 - 20:00 | 1 heure 30 minutes

Most of what we experience as heritage emerges into conscious recognition through a complex mixture of political and ideological filters, including...

Keynote with simultaneous translation / Conférence avec traduction simultanée

UQAM, pavillon J.-A. De Sève (DS) - DS-1950
9:00 - 12:30 | 3 heures 30 minutes

Digital installations and interventions have been seen as a promising ways to support and foster dialogue in museum exhibitions. How does this p...

Regular session

Concordia, LB Building - LB 671 CaPSL/CEREV
13:30 - 15:00 | 1 heure 30 minutes

Around the globe the planning of large-scale memorial-museum projects concerned with violent histories are frequently marred by conflict, omissi...

Research-Creation