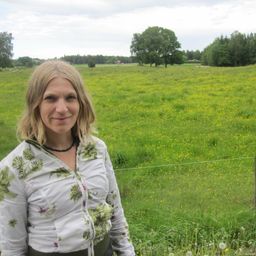 Dr Gabriella Olshammar
Researcher
University of Gothenburg
At the moment Gabriella is project leading a research project called "The power of visions: Industrial sites, integrated conservation and urban transformation", funded by the Swedish National Heritage Board (2015-2016). The objective is to reach a deepened understanding of everyday lives and urban visions connected to the industrial riverfront of Gothenburg. Two "stakeholder researchers" are cooperating with Gabriella and the character of this project and research group is in line with her interest to work in close contact with stakeholders (from municipalities and the heritage sector).
General research background and interests
Gabriella has a cross-disciplinary background with a Bachelor's degree in Urban Conservation (1996) and a Ph.D. in Architecture–Urban Planning and Design (2002). She did a postdoc in Melbourne in 2004 (The School of Architecture, Building and Planning) and she held a position as Assistant Professor at the Department of Conservation, University of Gothenburg, in 2005–2008, before taking a leave from research activities for approximately six years. She recently returned to research (part-time), focusing on the regeneration of urban industrial sites. Her interests convene in revealing and highlighting sociocultural values that are often present in dilapidated and stigmatized industrial areas. In the last couple of years Gabriella has utilized her private interest in SF novels for a deepened understanding of everyday lives and urban sustainable visions connected to the regeneration of industrial sites.
Sessions auxquelles Dr Gabriella Olshammar participe
Sessions auxquelles Dr Gabriella Olshammar assiste