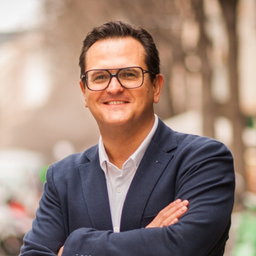 Ignasi Fontanals
Director Europe
REZILIO TECHNOLOGIE
Director for Europe of a canadian company that develops dynamic, predictive and intelligent risk and crises management solutions for resilient organisations. Former CEO & Co-founder of a pioneer start-up from Barcelona born to develop new tools to improve city resilience. He has been Work Package leader at the EU H2020 RESCCUE -Europe's first large-scale innovation and urban resilience project. He is associated teacher in different "Smart and Resilient City" Masters and courses in France and Spain within Université Gustave Eiffel, Université Côte d'Azur, Universitat Politécnica de Catalunya and Universitat Ramon Llull.
He is member of the French association Resiliances for economic activities and major risks. He is also member of the Smart City Group at the Engineer Association from Catalonia and the Canada-Spain Chamber of Commerce . He promoted the BCN Urban Resilience Partnership with UN-Habitat actually known as Urban Resilience Hub by UN-Habitat to disseminate city resilience at a global scale.
With entrepreneurship oriented skills, during his professional experience he has pioneer introduced smart and innovative technologies and approches in the public and private sector. He has engineering applied experience and professional background in urban services management working for multinational and SMEs companies. He obtained his Bachelor's Degree in Business Management and Administration at Universitat Autònoma de Barcelona and holds a diploma from the Grenoble Business School and a MBA. He attended Environment and Energy Efficiency education and participated in research activities at IQS about business strategy, resilience & city management. In recent years has attended different startup accelerator programs in Barcelona and Philadelphia.

Sessions in which Ignasi Fontanals participates
13:00 EDT - 14:30 EDT | 1 hour 30 minutes

Notre génération et celles à venir vont se rappeler de 2020 et 2021 comme les années où nous avons tous appris ce que la résilience représente p...

Activités participatives
Sessions in which Ignasi Fontanals attends