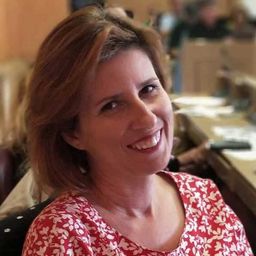 Maria Florou
Head of the Industrial Gas Museum
Technopolis City of Athens
Maria Florou, Head of the Industrial Gas Museum has graduated from the department of History and Archaeology in the University of Thessaloniki, Greece and has a master degree in Museum Studies/University of Leicester, UK. In the past she has worked in archaeological excavations and in educational programs in art museums. Since 2004 she worked as an assistant curator in Technopolis City of Athens in the Department of Visual Arts. In 2011, she participated in the museological team of the Industrial Gas Museum (IGM) and since then she is Head of the IGM at Technopolis, in Athens. Since 2018, she is also in charge of the Educational Program Kids4theCity, a programme dedicated to citizenship and public awareness of the protection of the city's monuments. She has also been a member of the Board of Directors of the Cultural, Sports and Youth Organization, City of Athens (2018-2019). She has participated in conferences and projects for the promotion of the Industrial Archaeology and Heritage and for the use of Oral History in museums. She is also very interested on audience development and communication strategies on historical sites.
translation_fallback: Sessions in which Maria Florou translation_fallback: participates
translation_fallback: 12:00 PM
translation_fallback: 12:00 PM
UQAM, pavillon J.-A. De Sève (DS) - DS-1520
Paper
Maria Florou, Technopolis City of Athens (Speaker)
Konstantinos Bitzanis, Technopolis City of Athens (Presenter)
Despina Andriopoulou, Industrial Gas Museum of Technopolis City of Athens (Speaker)
The old Gasworks of Athens was established in 1857 and provided energy for public lighting, industries and households in Athens. It was in full fun...
translation_fallback: Sessions in which Maria Florou translation_fallback: attends