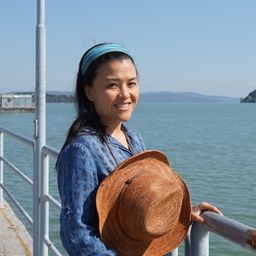 Dr. April Liu
UBC Museum of Anthropology
April Liu is currently the Andrew W. Mellon Postdoctoral Curatorial Fellow for Asia at the Museum of Anthropology in Vancouver, BC, Canada, with research interests in Chinese print culture, contemporary Asian art and visual cultures, and critical heritage studies. Since 2011, she has taught visual culture and art history at the Emily Carr University of Art and Design in Vancouver. Liu also worked as an independent curator and event organizer in the United States, Canada, China, and Austria. In 2014, she served as a core event organizer for His Holiness the 14th Dalai Lama's visit to UBC, Vancouver. Liu completed her PhD in East Asian Art History in 2012 from the University of British Columbia. Her PhD dissertation, titled "Living Auspiciousness: the Resurgence of Mianzhu's New Year Picture (Nianhua) Industry," critiqued the transformation of Mianzhu, an ancient and rural woodblock-printing center, into a site of "national heritage" for global circulation and tourism. This interdisciplinary study involved extensive field research in rural China and is situated at the intersection of anthropology and art history. Her publications include the following: "Mianzhu's Global Travels." In Collected Works of Mianzhu Nianhua, ed. Hou Rong. Chengdu: Sichuan Fine Arts Publishing, 2012. "The Living Word: Xu Bing and the Art of Chan Wordplay." In Xu Bing and Contemporary Chinese Art: Cultural and Philosophical Reflections, eds. Hsingyuan Tsao and Roger Ames. Albany: SUNY press, July 2011, 117-146. "Karaoke Hyperspace: Gu Xiong's Red River as a Study of Place-making." Yishu Journal of Contemporary Chinese Art 7.6 (2008): 78-87.
Sessions auxquelles Dr. April Liu participe
Paper
Dr. April Liu, UBC Museum of Anthropology (Participant.e)
In 2004, China officially signed UNESCO's Convention for the Safeguarding of Intangible Cultural Heritage (ICH) and dedicated over 800 million R...
Sessions auxquelles Dr. April Liu assiste