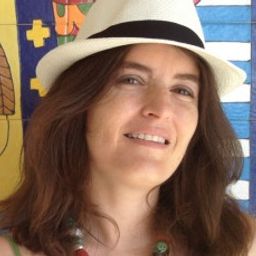 Ms. Corinna Moebius
Doctoral Candidate/Graduate Teaching Assistant
Florida International University
A cultural anthropologist, (Little Havana) tour guide and (Cuba) tour director, I am currently completing my doctorate in anthropology at Florida International University (FIU). My dissertation focuses on the intersections between local and transnational racial politics in Little Havana's heritage district. My research interests include race, public memory and public space; performances of memory; critical heritage/landscape theory; Cuban and African diasporas; commemorations. I have lived in Little Havana for a decade.
In addition to my Graduate Teaching Assistantship at FIU, I have served as a Teaching Fellow and advisor at Florida Atlantic University in Boca Raton, for a graduate-level
urban planning course entirely focused on Little Havana
. In 2015, I also co-authored  "A History of Little Havana." This summer I am also a mentor for a Cuban tour operator through
StartUp Cuba
, and in 2014 I was a
Latino Museum Studies Fellow
with the Smithsonian Latino Center.
Previously, I was the director of Imagine Miami, a civic engagement initiative for South Florida, through the nonprofit Catalyst Miami. In Washington, DC I ran my own consulting business, focused on public participation and engagement in urban and transportation planning projects. I launched my consulting business in Los Angeles, California after leaving the Internet industry as a specialist in online content and usability (mid-1990s). I earned my M.A. in Speech Communication at California State University, Northridge and a self-designed degree in Communications and Anthropology at the University of Massachusetts, Amherst.
On a personal note ... I have been studying Afro-Cuban sacred/folkloric dance for nearly two decades, and I love to dance rumba when I have the opportunity. My weaknesses include a good cigar every now and then. And I love used bookstores.  
Sessions auxquelles Ms. Corinna Moebius assiste