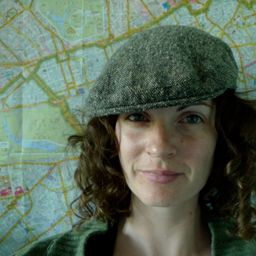 Jennifer C. Robinson
PhD Candidate, Visual Anthropology and Materiality
University of Victoria
Jennifer's research interests are driven by a passion for Canadian culture. As a nation of nations, much of the uniqueness of Canada lies in the relationships between Indigenous peoples, early Euro-American and Asian settlers, and new immigrant communities. Investigating these (often fraught) relationships forms the basis of her work in areas such as: colonial/"post"-colonial narratives, performance theory, the materiality of media, visual methodologies, community-based research protocols, critical museology, and the evolving discourse(s) of human rights in Canada. Since 2007 she has been working closely with heritage professionals, community elders, artists, performers, educators, and researchers at a number of galleries and museums both nationally and internationally. She is currently a Research Affiliate with UVIC's Residential and Indian Day School Art Research Program and the Curatorial Programmer of the Salish Weave Collection of contemproary art from the Coast Salish territories of British Columbia.

Jennifer holds a MA in Material and Visual Culture from the University College of London, a BA in Anthropology and History from the University of British Columbia, and is currently a PhD Candidate (ABD) in Visual Anthropology and Materiality in UVIC's Department of Anthropology. Her current doctoral research is an ethnographic study into the current exhibtion landscape of human rights in Canada. Based on interviews conducted with heritage professionals from eight different cultural institutions across Canada, this project analyzes the strategies and challenges of working with this strain of curatorial material; the partnerships formed in order to build emotionally charged exhibitions; the role of survivor testimony and material culture in processes of creating human rights exhibitions; and whether these exhibitions are contributing to broader discussions of human rights in Canada.
 
Sessions auxquelles Jennifer C. Robinson participe
Concordia, John Molson School of Business Building (MB) - MB S1.430
Roundtable
Dr. Angela Failler, University of Winnipeg (Participant.e)
Prof. Erica Lehrer, Concordia University, Canada Research Chair in Museum & Heritage Studies, Concordia University (Participant.e)
Dr Shelley Ruth Butler, McGill University, Institute for the Study of Canada (Modérateur.rice)
Heather Igloliorte, Concordia University (Participant.e)
Dr. Monica Patterson, Carleton University (Participant.e)
Jennifer C. Robinson, University of Victoria (Participant.e)
The Canadian Museum for Human Rights opened to the public in September 2014. Yet this "first museum solely dedicated to the evolution, celebrati...
Sessions auxquelles Jennifer C. Robinson assiste