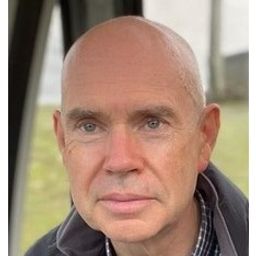 Miles Oglethorpe was elected onto the Board of the International Committee for the Conservation of the Industrial Heritage (TICCIH) in Russia in 2003, and at its last congress in Santiago, Chile in 2018, became TICCIH President. He is also Head of Industrial Heritage at Historic Environment Scotland, the national body responsible for the built heritage in Scotland.
A graduate of Durham University, he completed his PhD in Geography at the University of Glasgow, subsequently moving to Strathclyde University's Scottish Industrial Archaeology Survey Unit in 1983. In 1985 he joined the Royal Commission on the Ancient and Historical Monuments of Scotland in Edinburgh, from where he moved to the Scottish Government heritage agency, Historic Scotland, in 2007. He has since fulfilled a number of key roles there, including Head of Education, Outreach and Publications, Deputy Chief Inspector, and Head of Policy.
Further afield, he has worked with international partners on industrial heritage, notably in Norway and Japan, and most recently led the team responsible for preparing the successful World Heritage nomination for the Forth Bridge (inscribed in 2015). In addition, he works with UNESCO advisors, the International Council on Monuments and Sites (ICOMOS) on World Heritage issues, and is assisting with the development of a new tourism destination in Scotland, focused on the Forth Bridges.
He has edited, authored and co-authored a number of books and papers relating to industrial heritage, and energy in particular. Of these, his book, Scottish Collieries: An Inventory of the Scottish Coal Industry in the Nationalised Era (2006) is the most significant, containing the fruits of many years' work on Scotland's coal industry. He also jointly founded Capturing the Energy, an initiative established by the University of Aberdeen, Oil & Gas UK, TOTAL and other partners which is emulating the work of Norwegian colleagues in attempting to ensure the achievements of the UK's offshore oil and gas industries are properly recorded and recognised. In addition, he contributes to post-graduate programmes in the Universities of Edinburgh and Glasgow.
Sessions auxquelles Dr Miles Oglethorpe participe
UQAM, pavillon J.-A. De Sève (DS) - DS-1420
11:00 AM - 12:30 PM | 1 heure 30 minutes

During the Industrial Revolution coal was the most important energy source for both homes and industries. At the time, coal mining created stron...

Regular session
UQAM, pavillon J.-A. De Sève (DS) - DS-1420
1:30 PM - 3:00 PM | 1 heure 30 minutes

During the Industrial Revolution coal was the most important energy source for both homes and industries. At the time, coal mining created stron...

Regular session
UQAM, pavillon J.-A. De Sève (DS) - DS-1420
3:30 PM - 5:00 PM | 1 heure 30 minutes

During the Industrial Revolution coal was the most important energy source for both homes and industries. At the time, coal mining created stron...

Regular session
UQAM, pavillon J.-A. De Sève (DS) - DS-1420
9:00 AM - 10:30 AM | 1 heure 30 minutes

During the Industrial Revolution coal was the most important energy source for both homes and industries. At the time, ...

Regular session
UQAM, pavillon J.-A. De Sève (DS) - DS-1420
11:00 AM - 12:30 PM | 1 heure 30 minutes

During the Industrial Revolution coal was the most important energy source for both homes and industries. At the time, ...

Regular session
UQAM, pavillon J.-A. De Sève (DS) - DS-R515
9:00 AM - 10:30 AM | 1 heure 30 minutes

This session will bring together four specialists in the history of the production of oil and petroleum, natural gas, coal and nuclear energy, t...

Roundtable
Sessions auxquelles Dr Miles Oglethorpe assiste