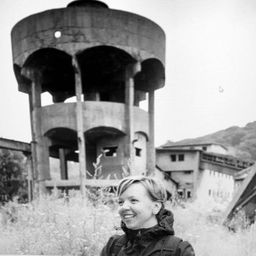 Oana Cristina Tiganea
Assistant Professor in Architectural Preservation
Politecnico di Milano
Oana Cristina Ţiganea (1982, Alba Iulia – Romania) is an architect specialized in the field of cultural heritage, with an academic path divided between Romania and Italy. Her main research field is Romanian industrial architecture dating the recent past (1945 – 1989) and its patrimonial potential value, approached during her doctoral studies developed at Politecnico di Milano (2010 – 2013) and, furthermore, during her post-doctoral scholarship in Bucharest at "New Europe College" Institute for Advanced Studies (2016 – 2017). Currently, she is a researcher at Politecnico di Milano (DAStU), and a component member of the Territorial Fragilities research project. During 2014 and 2018, she coordinated the cultural project "Anina, Mine of Ideas" focused on the preservation and enhancement of the mining heritage from Anina (Romania), being responsible for the project drafting, organization, and implementation.
Her latest research project "Stei, the Secret Uranium City: Industrial Legacy between Ecology and Architectural Preservation" will tackle strategies and practices of the preservation of the industrial legacy facing the ecological footprint in connection with its patrimonial acknowledgement and economic enhancement. These issues will be approached through the case study of Ştei, a former industrial town built in the early 1950s as headquarters of the Soviet uranium exploitation sites in Romania during the Cold War. The closing of the uranium mine in 2008 led to its territorial, economic, and socio-cultural isolation while facing the issues of contamination and radon radiations of the built and natural environment.
Fields of interest: industrial architecture in Romania dating the 20th century, steel industry in socialist Romania (1945 - 1989), mining industry and territories, uranium exploitation in Eastern Europe (Cold War), industrial heritage studies; industrial heritage preservation.
Sessions auxquelles Oana Cristina Tiganea participe
UQAM, pavillon J.-A. De Sève (DS) - DS-1420
Paper
Oana Cristina Tiganea, Politecnico di Milano (Conférencier.ère)
During the socialist years in Romania (1945 – 1989), when significant territorial transformations occurred due to the forced industrialization - ur...
UQAM, pavillon J.-A. De Sève (DS) - DS-1420
Paper
Oana Cristina Tiganea, Politecnico di Milano (Conférencier.ère)
In the last 10 – 15 years, a variety of bottom-up initiatives have emerged in Romania as a result of civic action, focusing on the safeguarding and...
Sessions auxquelles Oana Cristina Tiganea assiste