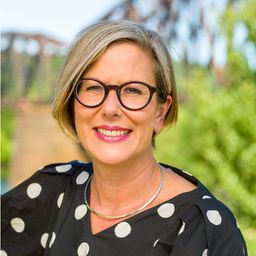 Amy Buchan
Vice President and Chief Operating Officer
Rivers of Steel Heritage Corporation
Amy Buchan has over 20 years of experience working in nonprofit arts and cultural organizations and higher education in southwestern Pennsylvania and abroad. Before joining Rivers of Steel, Amy held positions as the Director of Development at the American University of Rome (Italy); Director of University Advancement at Central European University (Budapest, Hungary); and Senior Director of Corporate, Foundation and Government Relations at Chatham University (Pittsburgh). Amy first worked with Rivers of Steel on the Born of Fire partnership during her 12 year tenure as Associate Director / Director of Development and Finance at the Westmoreland Museum of American Art (Greensburg). That project featured a large-scale exhibition of the Museum's industrial landscape paintings that traveled through Germany and Poland and led to major transatlantic educational partnership. She is the author of "From the Ruhr Valley to the Steel City and Back" a chapter in Museums in the Global Context, published by the American Alliance of Museums in 2013. Amy presented on the Born of Fire Project at TICCIH in Freiberg, Germany in 2009.
Amy holds a Bachelor of Music degree in Applied Piano from Westminster College (PA) and a Master of Music degree in Piano Performance and Pedagogy from Duquesne University.
In her role at Rivers of Steel, Amy oversees daily operations, including finances, budgets, grants, projects, programs, policies, and general business practices, among other duties. Amy's passion for preserving the region's industrial history is a tribute to her own heritage—her paternal grandfather was a Blacksmith at Latrobe Steel and her maternal great-grandfather was a coal miner. Amy is particularly interested in the intersection of our industrial heritage with the arts as well as the cultural traditions of the many immigrants who worked in the mines and mills.
Amy spends her free time reading and cooking, exploring the region's parks, and biking and running on the Great Allegheny Passage. She lives in Homestead with her two world-traveling cats.
Sessions auxquelles Amy Buchan assiste